You know I love my Kinvaras. Love. Them. But running on pavement was a jarring experience. As in bone owie, WTF? jarring. Maybe 20 or 30 pounds down the line but for now, not an option.
This was a problem since my training classes and my 5K are held outside. In my perfect world it would all be held on a treadmill. With a fan.
I couldn't go back to my Fat Runner shoes, Saucony Pro Grid Triumph or Hurricane, can't recall, because of the heel lift. The last thing I needed is to go back to a high heel. So I started researching.
The Cortanas (wonder if the designer is a game geek as it's the name of the A.I. in Halo) got rave reviews and are essentially a trainer with a dropped heel and less shoe. But a hefty tag at $145. Hefty when you don't have any money. If I had dispensable lucre I'd think that was quite reasonable but that is pretty much my cut off point.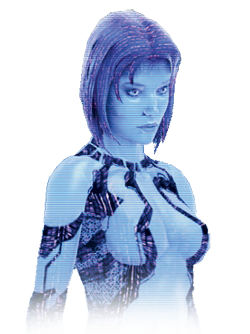 Halo Cortana
I ended up taking advantage of Road Runner Sports exchange policy. Quite generous, you get two months and no questions asked. I wasn't please (I may have cried a little) to say goodbye to my Kinveras but well, you know, I need to be able to run outside.
I'll let you know how they perform Saturday but so far I am in LOVE with them. I could have done without the pink, but thats all they had in stock and I needed them now. At least the combo is sorta New Wave looking.
Loving the upper, the honeycomb silver grey is very Space Oddessy. They aren't as minimal as I'm used to but most importunely they allow my foot to flex. The only difference between them and the K's as far as I can tell, is the extra cushion and the feel of more shoe, but not trainer shoe weight or bulk.
I wear a 10 in running shoes but had to go up to an 11 in the Saucony K's and Cortana. Fantastic toe box, to me there is more give in the Cortana then the Kinvara. The sole of the Cortana also feels wider and more stable. Not something I'd prefer, but not a deal breaker.
There's all kinds of other features but nothing I am qualified to speak on. But I'll let you know if they help a fat girl run on pavement.